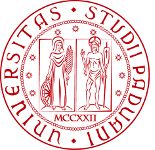 University of PADOVA
UniPD is one of Europe's oldest and most prestigious HEI with nearly 60.000 students, 230 post-doc researchers, 2.300 teaching staff and 2.300 administrative staff. UNIPD offers +170 degree courses and embraces 32 Departments, 1 University Hospital, 1 Veterinary Hospital, 1 Experimental Farm and a School of Excellence. It is a multi-disciplinary university that aims to provide high quality education, to foster research, to nurture international relations and to promote strong links with the local territory.
In terms of research excellence, the National Research Assessment Committee ranks UNIPD at the top among leading Italian universities for the quality of its research results. Based on the number of citations and publications (ISI), UNIPD ranks among the top 3 Italian universities for total impact index, productivity index and presence index. Research at UNIPD is also attracting more and more public and private funding: 5.2% of the resources that the Italian State allocates to scientific projects of national importance are awarded to UNIPD, while EU funding for R&I projects in UNIPD departments and research centres has grown by 40% over the last 3 years. The university's ability to contribute to the cultural development and economic growth of the region is also confirmed by the number of ongoing contracts with public and private bodies for experimental activities. Commercial research services alone account for 32% of the income of the university departments. UNIPD also boasts 130 active patents and 48 spin-offs.
UniPD International Relations Division directly manages and provides counselling for international education, mobility and cooperation programs (E+ KA1&2, CBHE, SP, etc.) and is also responsible for Bilateral Agreements, double/joint degrees, international training, Summer and Winter Schools, visiting scientists/professors, etc. Under the Erasmus+ programme, the Projects & Partnerships Unit coordinates 1 CBHE project (ICMED) and 1 EMJMD, and is partner of 9 EMJMDs, 2 CBHEs and 1 SP. As a whole, the Universities manage a yearly budget of 6ML Euro funded through the Erasmus+ programme. In a.y. 2018/19, international mobility at UNIPD accounted for 2.300 outgoing students and 1.600 incoming students, confirming an increasing trend over the years.
UNIPD is member of the European Universities Alliance ARQUS and participates in international educational networks, such as Coimbra Group; Top Industrial Managers for Europe (TIME); Venice International University (VIU); Mediterranean Universities Union (UNIMED); European Association for International Education (EAIE); UNIADRION; European University Association.
The project will mainly involve two different structures inside the University: the Department of Cultural Heritage and the Digital Learning and Multimedia Office.
The Department of Cultural Heritage employs more than 40 professors and researchers with a wide range of specialities including Archaeology, Art History, History, Tourism Management, specialists in Geomatics, remote sensing, Architecture, Informatics. The Department and its laboratories are also equipped with the most advanced technical devices and software programs for recording, analysing and valorising different kinds of cultural heritage (from landscape to monumental architectures to single objects) thus guaranteeing the necessary expertise and training needed for the activities of the project.
The Digital Learning and Multimedia Office of the University of Padova is in charge of managing, promoting and updating hardware and software for online teaching and for technological support to research and traditional teaching. The Office also provides a range of services such as filming, streaming, editing, consulting and training. In particular, the Office organises workshops and training activities for staff and provides specific consultancy for design and supply of courses. The Office also promotes and realises a range of multimedia products, such as MOOCs, video lessons and video tutorial for self-learning. The Office is additionally in charge of distributing online scientific contents through different
platforms and manages the Moodle platform for University Schools, Departments and other offices.
URL: www.unipd.it